2014 China-UK New Agriculture Industrial Technology Partnering Conference Underway
The 2014 China-UK New Agriculture Industrial Technology Partnering Conference was held in Innovation Square in the afternoon of March 5, in an attempt to promote new agriculture and the upgrading of agricultural technologies. The conference was organized by various institutions, including Suzhou Science and Technology Bureau, UK Embassy to China, Suzhou Productivity Promotion Center, Suzhou Guanghua Science and Technology Promotion Center, Shanghai Technology Transfer and Exchange, UK's Biological Knowledge Transfer Network and Innovation China UK. Attended were more than 100 representatives from enterprises and institutions in UK and Chinese cities including Shanghai, Suzhou, Changzhou.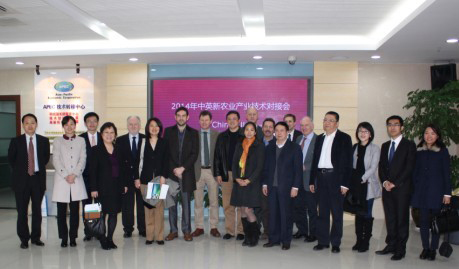 Representatives from UK first introduced 10 agricultural technologies in various fields including micro-machining, technologies on ready-to-eat fruits and vegetable, agricultural waste water treatment and repair technologies, livestock's rumen detection technologies, food supply chain application technologies, bio-active, soluble fiber production technologies, functional food and health products research and development technologies, food smart tag technologies. After that, enterprises from both China and UK had one-to-one negotiations and 19 cooperation programs were matched. On the next day, the organizers invited the UK delegation to Yuting modern agriculture industrial park in Wangting Town, Suzhou Weideng Modern Agriculture Technology Co ., Ltd, Suzhou Rencheng Biological Technology Co ., Ltd. Through field inspection, more details and specific programs of cooperation were decided.