Sci-tech Vital for Rural Development
The socialist modernization won't be complete without agricultural and rural modernization, according to the outcomes of the annual central rural work conference, which was held from December 23 to 24, 2022 in Beijing. The conference stressed the need to rely on science and technology to accelerate the construction of a strong agriculture sector.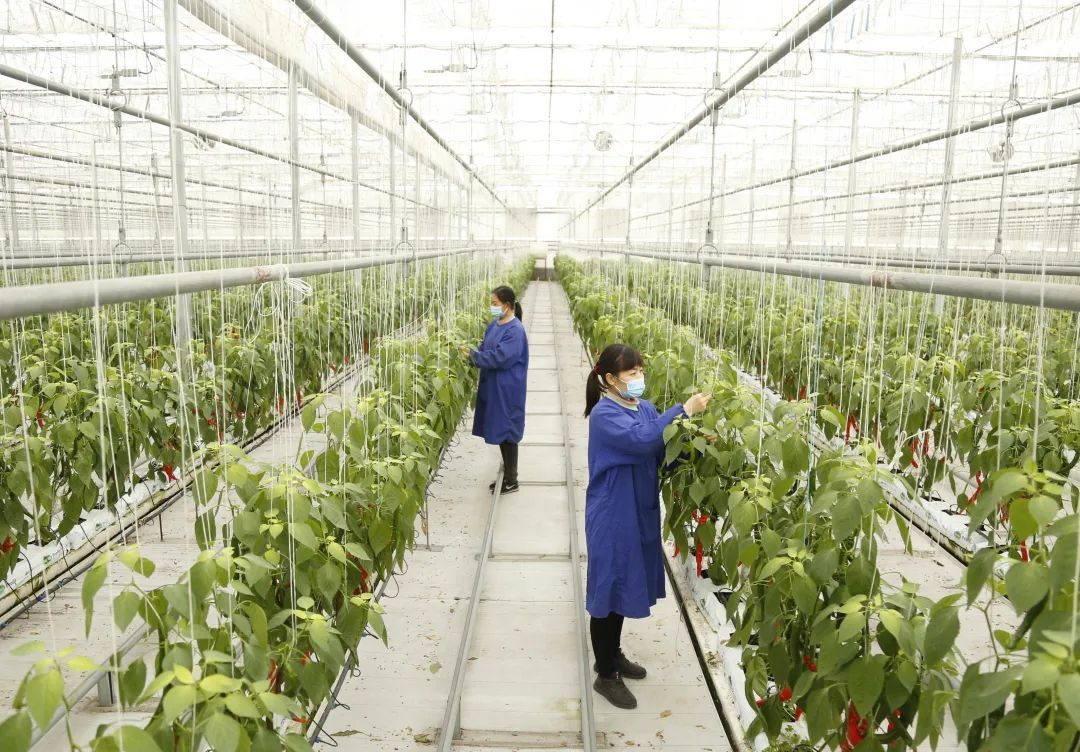 Photo taken on December 27, 2022 shows the smart farm in Xingtai, Hebei province.
For decades, China has carried out policies and projects to develop agricultural technologies focusing on the urgent needs of rural areas, and encouraged scientists and specialists to seek solutions for the farmers as well as transfer the practical techniques from their laboratories to agricultural production.
The conference agreed it is imperative to make breakthroughs in key and core agricultural technology, be guided by the agricultural sector's urgent needs, focus on fields such as fundamental technologies, core germplasm resources, as well as key agricultural machinery and equipment.
Due to seawater seepage and other reasons, more than 80 percent of the land in the Yellow River Delta is saline-alkali, causing many problems for local people to develop modern agriculture. In recent years, through ecological optimization of land and sci-tech innovation in seed breeding, a variety of saline-tolerant crops with high yields and good quality have grown in saline-alkali land.
To vitalize the seed breeding industry, China earmarked over 5 billion RMB (about 782.5 million USD) during the 13th Five-Year Plan period (2016-2020) in support of seed production bases. They supply over 70 percent of seeds for crop production and ensure national grain security.
By April 2022, the number of national seed breeding and production bases in China increased to 216. These hubs breed or produce seeds for grain, cotton, oil, and sugar, among others, and can supply over 80 percent of the seeds for the 14th Five-Year Plan period (2021-2025), the Ministry of Agriculture and Rural Affairs said.
To transform technologies into tangible output in the field, governments at all levels encouraged institutes and enterprises to send agricultural experts and technicians to rural areas and provided technical guidance and services. The specialists are called "science and technology commissioners."
First launched in 1999 in Nanping, Fujian province, the science and technology commissioner system has been applied nationwide. Over the past ten years, nearly 290,000 commissioners have been dispatched to support the poverty alleviation effort in 100,000 villages across China.
The late Li Baoguo, professor at Hebei Agricultural University, was once such a respected science and technology commissioner. He remained in the mountainous region in Hebei for more than 30 years, devoted to ecological governance and poverty alleviation in the Taihang Mountains. His efforts paid off, with 1.4 million mu of barren mountains turning green, and about 100,000 local farmers escaping poverty.
Apart from technology, skilled labor is another key for requirement for social and economic development in rural areas. Ma Jun, a science and technology commissioner of Sichuan province and professor at Sichuan Agricultural University, has been promoting new technologies to farmers and training them in agricultural skills.
To realize the modernization of agriculture and rural areas, it is vital to promote the deep integration of science, technology and industry, and develop green, high-quality agricultural industries that suit local conditions.
Wuyi Mountain is the birthplace of Oolong tea and black tea. Since 2015, Liao Hong, professor at Fujian Agriculture and Forestry University, also a science and technology commissioner, has led her team to build an ecological tea garden demonstration project.
The Yanziyong Ecological Tea Garden in Xingcun town, Nanping city, Fujian province, with a total area of more than 10,000 mu, benefits more than 100,000 mu of surrounding areas. Ecological tea gardens not only increase tea yields, but also create more profits with improved soil and tea quality, now becoming the major growth engine of the local economy.
In the 1980s, professor Lin Zhanxi at Fujian Agriculture and Forestry University invented Juncao technology to grow edible mushrooms on grass-based substrates, instead of felled trees. The promotion of Juncao technology, "the grass of happiness," has brought economic and ecological benefits to more than 500 counties across China and more than 100 countries and regions around the world.