Digital Technology Reshaping Future Education
Digital technology has become a social necessity to ensure education as a basic human right. In recent years, this trend has motivated China to accelerate the digitalization of education to promote educational equity, improve the quality of education, and meet the needs of the labor market.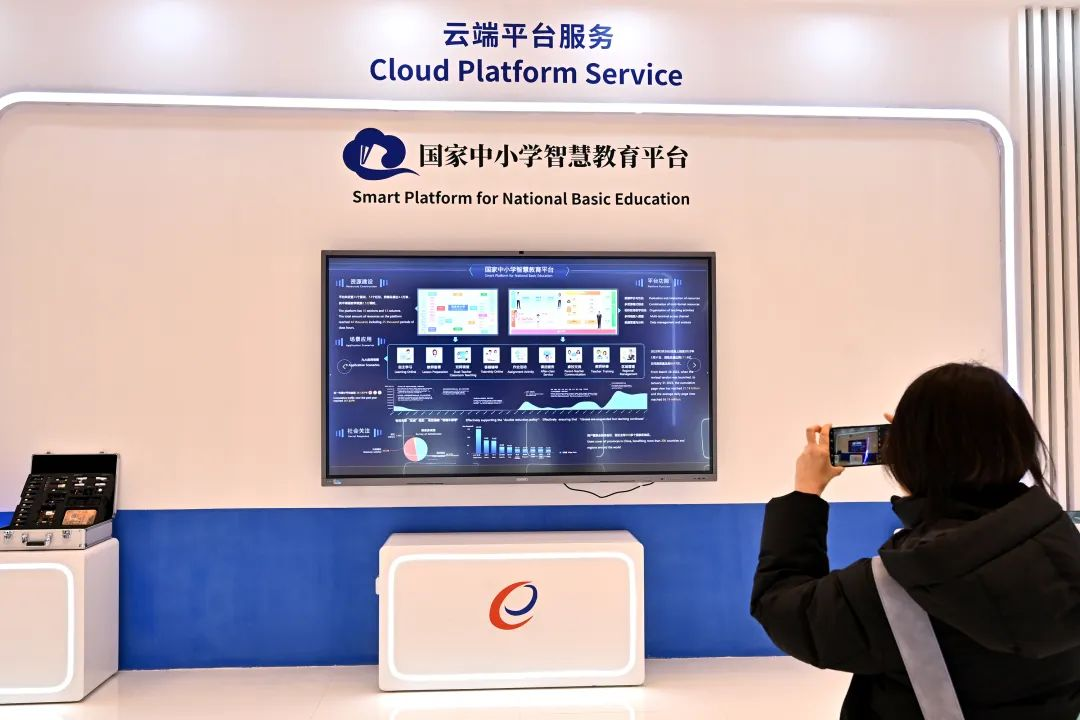 Digital tools are displayed at the World Digital Education Conference in Beijing, Feb 13, 2022.
In a world experiencing more frequent crises and conflicts, promoting education recovery in the post pandemic era and realizing equitable quality education through digital education transformation are now a matter of urgency.
In southwest China's Sichuan province, it takes more than three hours to drive from the capital city Chengdu, to Kangding in mountainous western Sichuan. However, with the help of digital technology, it takes less than one minute for a teacher from the renowned Chengdu No. 7 High School to answer a student from Kangding.
So far, all primary and secondary schools across China have been connected with the Internet, an increase of 75 percent over 2012. More than 75 percent of schools have Wi-Fi coverage, and 99.5 percent of schools have multimedia classrooms.
Digital education platform Smart Education of China was launched on March 28, 2022, and has become the world's largest educational resource database, said the Ministry of Education (MOE) on February 9.
According to the MOE, the platform's primary and secondary education section boasts 44,000 pieces of content; the vocational education section has access to 1,173 national and provincial-level databases; and the higher education section brings together 27,000 online courses and virtual simulation experiments.
To date, the platform has received more than 6.7 billion page views and more than one billion visitors, with users covering more than 200 countries and regions on five continents.
In a virtual classroom, students from Nanjing University of Aeronautics and Astronautics, Northwestern Polytechnical University and Guizhou Institute of Technology managed to complete the assembly of the C919, China's first domestically developed large passenger jet.
"With digital simulation and virtual reality technology, we can not only move the aircraft assembly site to the class, but also realize interaction between students from different universities through 5G communication," said Tian Wei, professor from Nanjing University of Aeronautics and Astronautics.
From compulsory education to higher education, the application of digital technology has improved the quality of lessons by providing more interesting content and immersive experiences.
Meanwhile, digital tools have upgraded the employment services to empower university graduates during the hiring season.
With AI, big data, cloud computing and blockchain technology, it becomes more targeted and efficient for training, recommendations, applications and assessments.
On March 28, 2022, the national employment service platform for college students was launched, providing a wealth of policies, job information and guidance services. In 2022, more than 13.7 million jobs were presented on the platform, helping 31.6 percent of college graduates find jobs, a 7.6 percent increase over 2021.
Thanks to the wide coverage of Internet infrastructure and digital platform and resources, effective distance learning solutions have allowed Chinese teachers, students and policymakers to continue with the national lesson plans during the COVID-19 pandemic.
However, countries without necessary ICT infrastructure and well-resourced digital learning systems suffered the greatest education disruptions and learning losses. This situation left as many as one-third of students around the world without access to learning during the school closures for more than a year, according to UNESCO.
Education transformation is urgently needed, and the power of digital transformation must be fully harnessed to ensure that quality education and lifelong learning are made available to all as a common good.
The World Digital Education Conference, recently held in Beijing, called for the international community to strengthen dialogue and exchanges, deepen practical cooperation and work together to promote the digital transformation of education and the realization of Education 2030 Agenda.
At the conference, the World Digital Education Alliance was initiated jointly by the Chinese government, universities, institutes and enterprise, under the auspices of international and regional organizations, including the UNESCO. The alliance is open to all stakeholders around the world to promote the sharing of digital education resources, strengthen interconnection and tackle challenges.